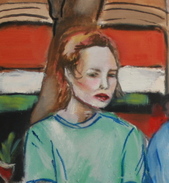 Laurie Weber Art

Strength in form and rich in palette, Laurie Weber's subjects run the gamut from nature to man made.
Exotic locations, ornate architecture, or streamlined buildings are frequent backdrops to the human form and nature: tantalizing, powerful, and graceful. Regardless the subject, the viewer feels a bit voyeuristic; a participant embroiled in a private world.

Traveling and relationships have been a source of inspiration for her artwork: a visual diary of day-to-day living emphasized by color, light, and shadow, evoking depth and temperature in vivid oil paint. The viewer becomes a bystander transcending worlds and emotions; the senses come into play arousing participation in the painting.

Laurie professes, "My first love was the human body it's motion, tension, and power interpreted by a simple line, a look or gesture that can mesmerize. Whatever the backdrop, alluring locations or the secret den of a dominatrix, the surroundings always play an important role in showcasing the power the physique possesses."

Uniting architecture with the human form is a natural progression for her artwork. Caryatids are a strong influence in many of her paintings; contrasting vast structures with gentle lines, detached with vulnerable. She does not shy away from contemporary architecture, although sometimes viewed as impersonal and vapid. Laurie celebrates architecture: dynamic in power, vast in proportions, confrontational.

Currently, working on a series on New Jersey: depicting images of structures from graveyard to the birth of the revitalization of the "new" Jersey. The relationship between architecture and sky dictates the storyline of man in balance with nature or in opposition with nature: buildings jutting out in majestic glory or crumbling in surrender impelling the artist to capture them on canvas.

"I have no favorite subject matter to duplicate or recreate; the only requirements are that it be lush with life, vibrancy and strength. Whether it is the human form, landscape, architecture, or sound, inspiration will compel me to create."

Ongoing collaborations with artists, including writers, photographers, and musicians have added new dimensions to Laurie's otherwise solitary creations. These endeavors have opened up new venues and expanded her points of perspective. Ms. Weber is a founding member of an entertainment company formed to foster and nurture the visual image in theatre. Laurie creates fine art as the identity to represent and reach the shows' audiences and also represent the importance of incorporating art into the show. She has also created and contributed her visual images to a television series pilot, illustrating contemporary life in New York City in its' real and gritty view.

She received her BFA from the School Of Visual Arts in New York City. Addicted to the city's energy, she remains living in the vicinity since college. Although she concentrates showing her work in New York, she has been featured in shows in museums and galleries throughout the United States.